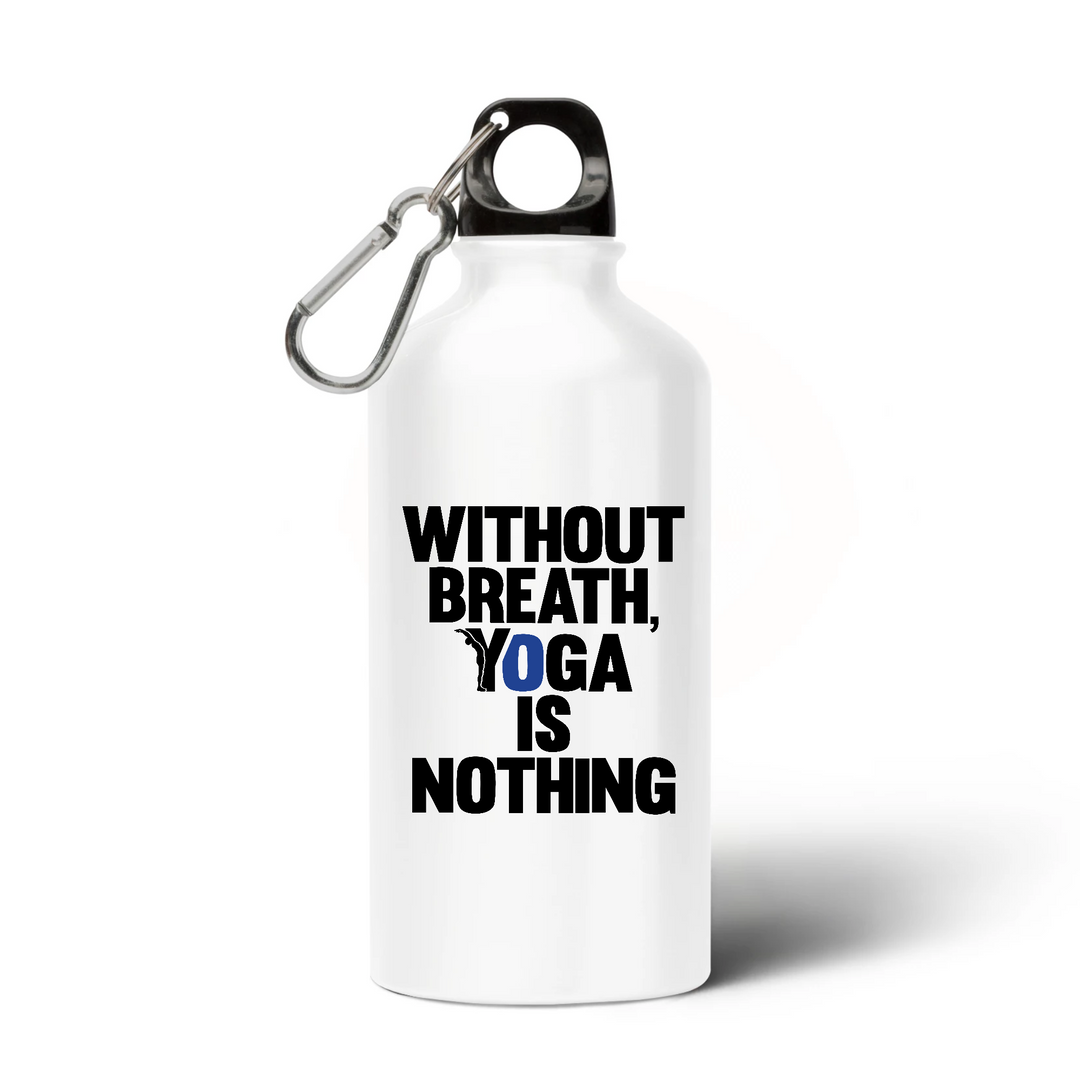 Water bottle - Without breath yoga is nothing - 500ml

Regular price
27,00 €
/
Tax included.
Shipping
calculated at checkout.
---

---
Description :
Here is a model of water bottle that will delight all yoga lovers !
Reveal your passion for yoga by choosing to add our water bottle to your sports accessories !

No more cluttering up your backpack or gym bag with a plastic water bottle!
Finally, be in tune with your ecological conscience by choosing the green alternative par excellence!
During your outdoor sports sessions, you can take it with you and hang it where you want thanks to its carabiner clip.
This sports bottle can also accompany your yoga exercises , in nature, in groups or alone at home, keep it always close to you and stay hydrated!
You will no longer need to buy a single bottle of water when you go out on the town, during your hikes and even during summer festivals !
Equip yourself with this carabiner bottle before going out and fill it with the drink of your choice, feel free !

This white aluminum water bottle "without breath, yoga is nothing" is a must-have to grab without delay!

For even more anticipation, put this 500ml water bottle in your fridge, the water will stay fresh much longer than with a plastic bottle.

It is the best solution to save money , to produce less plastic waste and to always have water at hand !
Reveal your passion for yoga while respecting the environment and your wallet!
Specifications:
Aluminum bottle
This bottle is equipped with a carabiner
Capacity: 500ml
Height: 19cm
Avoid the dishwasher
Do not microwave
NORME MONDIALE DU TEXTILE BIOLOGIQUE (GOTS)
La norme mondiale du textile biologique (GOTS) est la norme mondiale de traitement des textiles pour les fibres biologiques, y compris les critères écologiques et sociaux, soutenue par la certification tierce indépendante de l'ensemble de la chaîne d'approvisionnement textile. Cette norme définit également les limites sur les autres fibres qui peuvent être mélangées avec les fibres biologiques.
Norme de contenu biologique (OCS)
La norme de contenu biologique (OCS) est une certification pour les produits non alimentaires qui confirme la présence de matériaux biologiques dans le produit final. Elle suit également la chaîne d'approvisionnement de sa source au produit final.
Norme mondiale des produits recyclés (GRS) et norme de revendication de recyclage (RCS)
La norme de revendication de recyclage (RCS) et la norme mondiale des produits recyclés (GRS) sont des normes internationales et volontaires qui définissent les exigences pour la certification de contenu et de la chaîne d'approvisionnement par des tiers. L'objectif commun des normes est d'augmenter l'utilisation de matériaux recyclés. La norme GRS comprend des critères supplémentaires pour les exigences de traitement social et environnemental et les restrictions chimiques.
Ecocert COSMOS
La certification Ecocert COSMOS garantit que les ingrédients sont d'origine naturelle à l'exception d'une liste limitée d'ingrédients autorisés en petites quantités. En moyenne, les produits certifiés par Ecocert contiennent 99% d'ingrédients d'origine naturelle.
La certification Ecocert vérifie la composition, la transformation et le conditionnement du produit.
La certification garantit un produit respectueux de l'environnement et fabriqué en tenant compte de la biodiversité et de la préservation des ressources naturelles. Cette certification inclut d'autres facteurs comme l'absence d'OGM et d'ingrédients pétrochimiques (parabènes, phénoxyéthanol, parfums et colorants synthétiques).