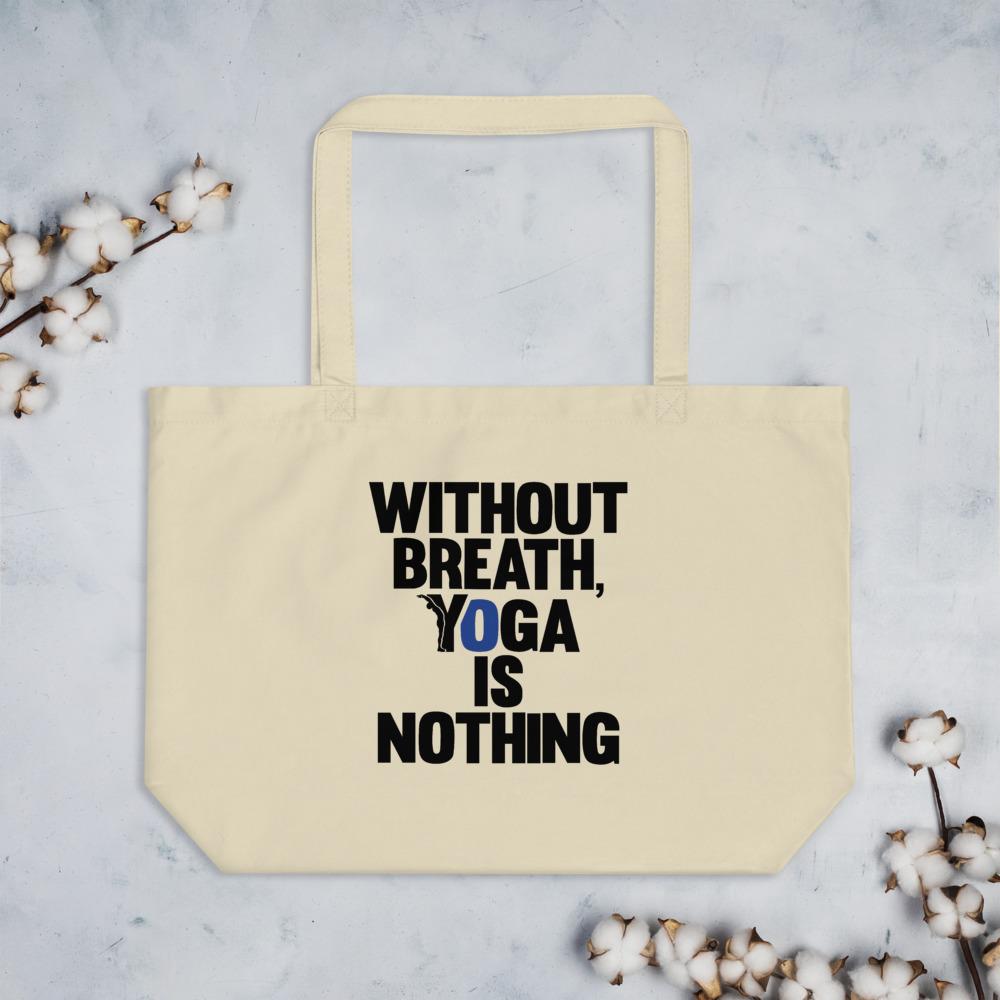 yofe - XXL tote bag - without breath, yoga is nothing

Regular price
24,00 €
/
Tax included.
Shipping
calculated at checkout.
---

---
Description :
Carry all the things you need in this super practical and stylish large tote bag !
By opting for this beautiful organic cotton bag , choose a life without plastic today and stay in line with your ecological principles !
No more having to throw away or unnecessarily store plastic bags brought back from shopping, just take this organic cotton bag to carry them home.
It's a good start to embark on the zero waste movement and to participate in changes in favor of the environment !

You will find all sorts of uses for it in everyday life!
To take your course books during the week or your sports stuff at the weekend.
During your beach vacation or your night out with friends.
It's up to you to use it as you see fit and according to your daily needs!
Treat yourself to our white "Without breath, yoga is nothing" tote bag to reveal your passion and join the great community of yoga lifestyle fans !
Thanks to its sober and classic style, it can be used by women and men, everyone can freely express their love for yoga !
Who said you can't combine fashion and ecology ?
Our fabric bag can go with all the styles and clothes in your wardrobe!
Specifications:
100% certified organic cotton 3/1 twill
Fabric weight: 272 g/m² (8 oz/yd²)
Dimensions: 20" x 14" x 5"
Capacity: 23 l (6 US gal)
Weight limit: 13.6 kg (30 lbs)
Double straps in the same fabric, width 1" and length 25"
Open main compartment, flat bottom
NORME MONDIALE DU TEXTILE BIOLOGIQUE (GOTS)
La norme mondiale du textile biologique (GOTS) est la norme mondiale de traitement des textiles pour les fibres biologiques, y compris les critères écologiques et sociaux, soutenue par la certification tierce indépendante de l'ensemble de la chaîne d'approvisionnement textile. Cette norme définit également les limites sur les autres fibres qui peuvent être mélangées avec les fibres biologiques.
Norme de contenu biologique (OCS)
La norme de contenu biologique (OCS) est une certification pour les produits non alimentaires qui confirme la présence de matériaux biologiques dans le produit final. Elle suit également la chaîne d'approvisionnement de sa source au produit final.
Norme mondiale des produits recyclés (GRS) et norme de revendication de recyclage (RCS)
La norme de revendication de recyclage (RCS) et la norme mondiale des produits recyclés (GRS) sont des normes internationales et volontaires qui définissent les exigences pour la certification de contenu et de la chaîne d'approvisionnement par des tiers. L'objectif commun des normes est d'augmenter l'utilisation de matériaux recyclés. La norme GRS comprend des critères supplémentaires pour les exigences de traitement social et environnemental et les restrictions chimiques.
Ecocert COSMOS
La certification Ecocert COSMOS garantit que les ingrédients sont d'origine naturelle à l'exception d'une liste limitée d'ingrédients autorisés en petites quantités. En moyenne, les produits certifiés par Ecocert contiennent 99% d'ingrédients d'origine naturelle.
La certification Ecocert vérifie la composition, la transformation et le conditionnement du produit.
La certification garantit un produit respectueux de l'environnement et fabriqué en tenant compte de la biodiversité et de la préservation des ressources naturelles. Cette certification inclut d'autres facteurs comme l'absence d'OGM et d'ingrédients pétrochimiques (parabènes, phénoxyéthanol, parfums et colorants synthétiques).